Who is our target market?
Corporate clients- work function/event transfers

Small groups family/friends who want something nicer than a maxi taxi

Over 30's men and women
Where is our target market based?
We will be operating both in Perth and the Southwest. Ideally, we would have clients that use us for a charter to the swan valley in Perth, then when they holiday down South they use us again

 When the borders open again, possible target market could include Singaporeans and Chinese

At the moment target market would be Perth Holiday makers- holidaying Down South
What is that we do?
We will provide a charter service- picking clients up from wherever they wish and driving them to an itinerary of their choice.
When do we operate?
In Perth we are available for charter work 9am to 5pm Monday to Thursday and from 9am




Friday to 12pm Sunday

In the Southwest we are available Mon to Thurs 4pm to 12am and from 4pm Friday to 11pm




Sunday
What is our point of difference?
Comfort and luxury for small groups (up to 7)

Easier to access in and out compared to a limosuine (ideal for elderly)

Much nicer than all the competitors vehicles

Cheaper than a limosuine

Allowed to consume BYO alcohol on board, as per WA Racing and Gaming Commision




ruling on small charter vehicles
Luxury Transfers WA is a transfer and charter business owned and operated in the Southwest. With vehicles based in Perth and Busselton we can cater for your every adventure. We specialise in transporting small groups up to 7 people, travelling in style with professional drivers. We can cater for all sorts of events and functions whether it be weddings,
funerals, school balls, corporate lunches, concerts, theatre productions, sporting events, race days, casino trips, wildflower excursions, the list goes on. Our comfortable vehicles have individual reclining, leather captain's seats, usb ports, tray tables with the ability to have refreshments onboard. Our professional drivers have many years of driving experience and will ensure that your journey is safe and comfortable. With extensive local knowledge they can provide a pleasurable day out.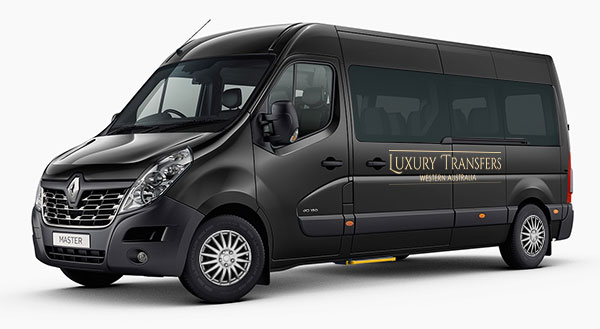 Competitors in the Southwest
Margaret River tours
Busselton Charters and Transfers
A Touch of Glass Tours and charters
 Busselton Tours and Charters
 Mydriver
Cape to Cape Wine tours and Charters
 Southwest Driving Services
Grape Escape Southwest Tours
Margaret River Chauffers
Southwest Luxury Transport
Go in Style Luxury Transport
Cape Chauffers
McLeod Tours
Customized Tours
Dunsborough limousines
Southwest eco discoveries
Gannaways Charters
GranTourismo Private Tours